EVENT: Dark Yule - A Divination and Art Showcase
About
Join the Ritual owners and their many creative colleagues for this private, singular evening of art, divination, fashion, wine, and community. Featuring appointment slots with some of the most experienced psychic readers in Seattle and one of the most comprehensive shows that AxeHaka has done in Seattle yet. This is the perfect way to spend an cold December evening, but be warned - if you have plans afterwards, you might draw an inordinate amount of attention to your new black ensemble and uncanny knowledge of the future.
Featuring:
Tea leaf readings with bi-lingual medium Marisi Sojit
Bone readings with powerful psychic medium The Scarlet Crow
Tarot readings with Ritual proprietress Sarah Randall Williams
Custom Jewelry and Tooth Gems by Heather Loop of SwampSwag
Multi-media horror/doll art and curios by AxeHaka
Complimentary wine/drinks/snacks
25% off all Ritual goods when you book a reading or tooth gem application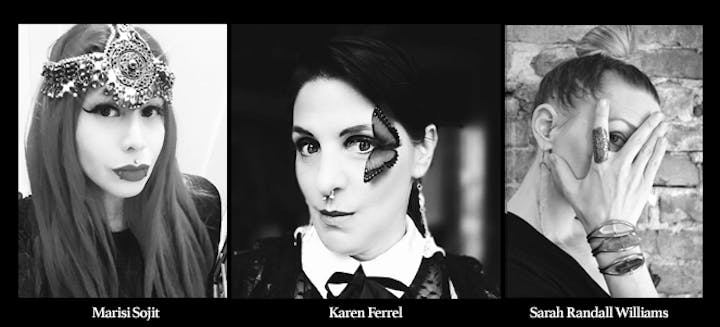 Marisi Sojit is a psychic medium from South America who has been developing her psychic gifts since the age of six, when she underwent the early death of her father, forging within her a strong sensitivity and connection to the spiritual world. She has been traveling and delivering clairvoyant knowledge to people around the world for more than a decade. Sojit provides tarot, tea leaf, palm, and angel readings in English and Spanish, and offers guided meditations with Balinese bells. Having established herself in Seattle and the Pacific Northwest for some recent years, she is also a musician and works with the Grunge and Metal communities to document modern music history.
Karen Ferrel is a well known professional communicator of the Spiritual Realm who provides services in Seattle and beyond as The Scarlet Crow. She is the descendant of a long line of women who are able to communicate with people who have passed on, and is able to call upon departed loved ones from the past, strangers from the realm who have relevant information, and the occasional friendly messenger who has just popped in to say hello. Her specialties include Spirit Guide knowledge, mediumship, and bone readings.
Ritual owner Sarah Randall Williams learned to read tarot at age 13 as a way to deeply annoy her family, and is a practitioner of chaos magic, i.e. non-theistic, results-based mysticism that prioritizes the power of the mind above all else. Her readings utilize the symbolism of the traditional Rider-Waite tarot system to foster the querent's own logical reasoning, enabling them to draw conclusions about themselves and their lives. She is the proud owner of a very mystical beagle named Hodor.
Artists
Heather Loop began making jewelry while living and working as a bike messenger in NYC in 2004, and honed her singular aesthetic once she moved to New Orleans in 2013, working with found/recycled bones, bullets, and leather. She currently scavenges animal bones and bullet casings on the lush, atmospheric Olympic Peninsula and incorporates them into her pieces that imbue the wearer, talisman-like, with a touch of soul from the PNW forest. When not making art in her workshop she can be found applying gold or silver tooth gems to local bicuspids with the skill and accuracy of your favorite, cool aunt dentist.
Buy Tickets